Refreshed Fish Program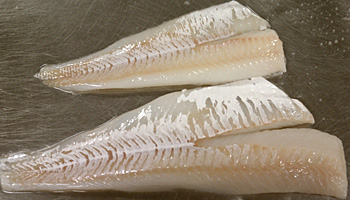 We offer a great line of Refreshed products which are great for portion control and year round consistency. Our signature product is Alaskan "H&G Codfish" which is MSC Certified. The product is harvested directly from the Bering Sea via long-line and frozen at sea minutes from being dressed. It is then shipped frozen and stored on-site within our Massachusetts licensed freezer. Daily we slack out product to meet each order as received, which guarantees freshness and gives each customer the optimal shelf life. With our state-of-the-art filleting and skinning machines the process is flawless to provide a consistent high quality product. The final step in the process, just prior to packing, is each fillet is scanned and candled by our quality control team to ensure the highest quality product is being shipped. Custom packing options are available upon request.
Contact us today for more information!
© Tichon Seafood Corporation. All Rights Reserved.