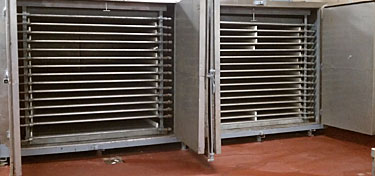 "Plate Freezing"
Located within our facility is a state-of-the-art plate freezer. This commercial grade freezer instantly freezes product at an incredible -40 degrees F. The product goes from fresh to completely frozen within approximately 3 hours. This quick freeze process safely secures the quality of the product, sealing in the freshness. We are capable of freezing 20,000+ pounds a day, 7 days a week. We not only use this service ourselves, Tichon Seafood is proud to offer this service to our customers. With proper scheduling our customers can have their own product sent to us, frozen and shipped back to them by the end of the day. With demanding deadlines and high quality standards, this service will make a difference.
Contact us today for more information!
© Tichon Seafood Corporation. All Rights Reserved.